Training Tips and Info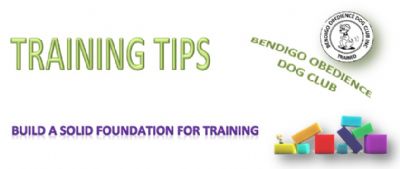 CLUB DOCUMENT LINKS
We are happy for this information to be downloaded and shared. Click on the picture under the heading to bring up the Training Tip document.
Links to documents that may assist with the care and training of your dog
Training Equipment Jumping Up Pulling on Lead (Pt 1) Pulling on Lead (Pt 2)
Rewards & Reward Timing Making the Most of Training Shaping Distraction
Contact Details
Bendigo Obedience Dog Club Inc
Training Ground:
Finn Street Recreation Reserve, Bendigo Vic 3550
Postal Address:
PO Box 2396, Bendigo Mail Centre, Bendigo 3554
For enquiries please contact: Heather - 0409 429 972
Alternatively you can email your enquiry.