Agility training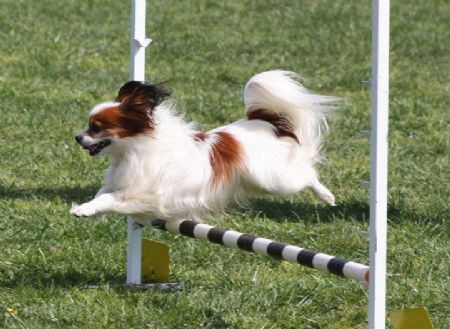 AGILITY
Agility is a fast, fun activity for you and your dog. Agility involves competitors directing their dogs around obstacle courses in an attempt to both negotiate the obstacles correctly and 'beat the clock'. The obstacles comprise various types of jumps, ramps, elevated walks, poles that the dogs weave through, different types of tunnels and a see-saw.
Participation in agility training or trialling is great fun. It enables you to provide a release for the energy of your pet and yourself in a way that can be much more interesting and exciting than simply taking your dog for a walk. It helps your family pet to become more responsive to you and also helps you to gain more control and have a more obedient dog. Agility is an exciting way to enhance your leisure time with your dog. The Bendigo Obedience Dog Club provide training courses in agility for beginners and also provide ongoing training for those more advanced dogs.
Agility, and its companion activity, jumping are structured for dog owners with all levels of skill and physical ability and provide the opportunity to attain more enjoyment from dog ownership. During actual agility and jumping trials there are several levels of competition ranging from novice level to suit dogs new to the sport to master level for more experienced dogs. There are also jumping competitions at the basic level that include only jumps and tunnels which gives the opportunity for dog owners to join in the fun of trials soon after they begin teaching their dog the sport.
Competitions are held at state and national levels and are structured in a similar manner to equestrian events. The judge designs and sets up the 'obstacle course', measures its length and after considering the degree of difficulty calculates a standard time in which the course should be completed by the dog. Each competing dog has to run the course within the set time, negotiate all the obstacles in the correct order and correct manner in order to avoid receiving course or time penalties.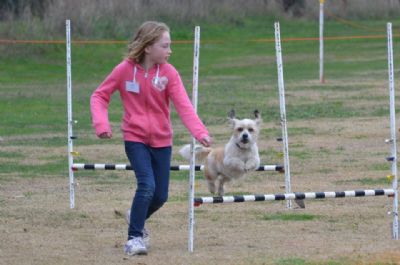 The BODC has a number of members who train and participate in agility events. Other club members enjoy the training courses just for the fun that the activity can provide to dogs and handlers.
What do the agility dogs do? Watch the 2011 agility final (Crufts) here.
The instructors give up their spare time to conduct courses during the year. All participants are asked to assist the instructors to set up and put away equipment. It makes the job easier and you can 'talk shop' and maybe pick up extra pointers whilst you help.
Please note that it is recommended that your dog is under basic control when off lead before attempting agility as most of the training is undertaken off lead.
Agility courses are conducted for handlers new to the sport (basic agility course) and those that have completed the basic course (beginners agility course).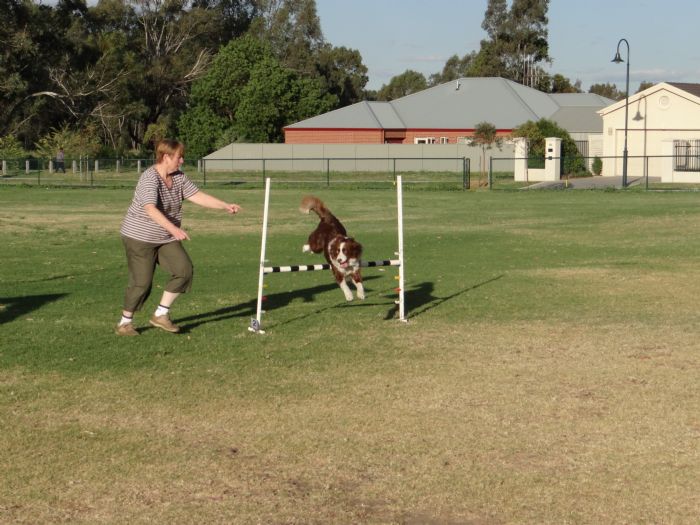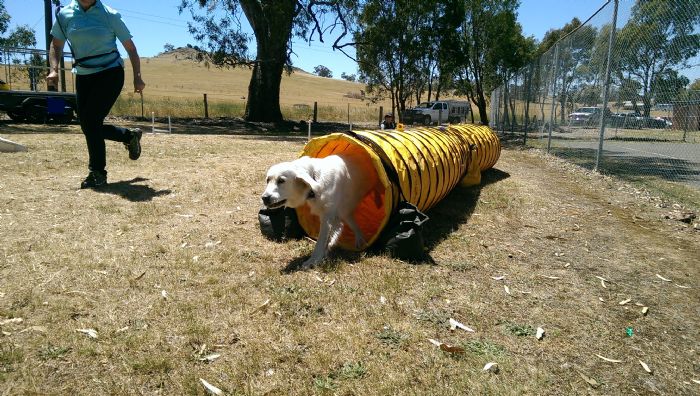 Contact Details
Bendigo Obedience Dog Club Inc
Training Ground:
Finn Street Recreation Reserve, Bendigo Vic 3550
Postal Address:
PO Box 2396, Bendigo Mail Centre, Bendigo 3554
For enquiries please contact: Heather - 0409 429 972
Alternatively you can email your enquiry.