Rally & Obedience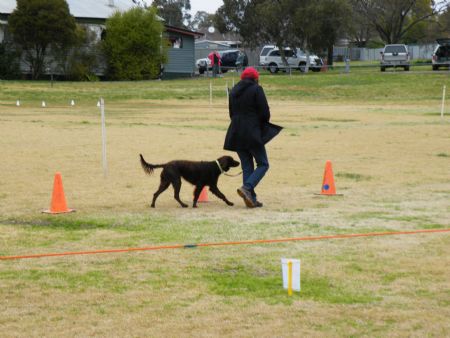 Trials are held all over Victoria during most of the year. To compete you need a trained dog that is registered with a controlling body – in Victoria it is Dogs Victoria - and you must also be a member. Any dog can trial regardless of its parents, purebred or not. Dogs without registration papers trial as associates and everyone competes together.
There are five levels of obedience in Australia, they become progressively more challenging and the dog has to attain one title at a time before moving on up into the next class.
A title is completed when the dog has three passes at that level. Most levels require a pass of 175 points or more out of 200, and the dog must pass every exercise within the test. The exception is the entry class of Community Companion Dog which requires 75 points out of 100 points on offer.
In obedience the only exercise completed in the presence of other competitors in the ring are the stay exercises. All others are completed by you and your dog alone in the ring with the judge.
Titles
The titles available in obedience competition are CCD, CD, CDX, UD, UDX
Community Companion Dog – CCD
In this class Exercises are Heel on Lead, Stand for Examination, Recall, 1 minute Sit Stay, 2 Minute Down/Drop Stay
The dog and handler work together as a team to perform a heel on lead exercise, including sits, stands and downs as directed by a judge.
Next exercise is stand for examination where the dog stands quietly on lead whilst the judge comes up and strokes the back and head.
The final exercise is when the dog is left sitting whilst the handler walks away 10 meters then turns and recalls the dog, which should come straight in and sit in front, the handler returns around the dog and releases it.
When all dogs in the class have completed their single exercises, they all come together to do group exercises. This is a one minute sit stay and a two minute down stay, all off lead in a row with the handlers standing six metres away.
Companion Dog – CD
Things get a little harder here:
Exercises are Heel (off lead), Stand for Examination (off lead), Recall, Retrieve Dumbbell OR Change of Position, 1 minute Sit Stay, 3 Minute Down/Drop Stay ling exercise is off lead so it requires team work and good training for the dog to stay way.
Companion Dog Excellent - CDX
Most dogs enjoy the fun offered in this level but the standard of the work is expected to be higher:
Exercises are Heel (off lead), Stand for Examination (off lead), Drop on Recall, Retrieve Dumbbell on Flat, Retrieve Dumbbell over solid Jump, Change of Position OR Broad Jump, 3 minute Sit Stay (handler out of sight), 5 Minute Down/Drop Stay (handler out of sight)
Utility Dog - UD
This gets really hard because the dog has to go away from the handler and do things which are really quite complicated, although it looks easy watching an experienced dog doing it.
Exercises are Seek Back, Directed Jumping, Scent Discrimination, Heel, Speak on Command OR Food refusal OR Directed Retrieval, Group Stand for Examination, 7 minute Down/Drop Stay (handler out of sight)
Seek back - where the dog and handler heel around the ring to make a track and somewhere along the track an article of the handler's is placed, then the dog has to go and find this and bring it back and present it to the handler
Directed jumping - where the dog runs out 25 metres and sits in a square frame, then returns to the handler over a bar jump or a solid jump on either side of the ring, whichever the handler points towards.
Scent discrimination - either on a canvas mat or on the grass, there are 12 metal, wood and leather articles put out by the judge or steward, and the dog is sent to the articles to retrieve a similar article which the handler has touched, this is done three times, once for each sort of article
Heeling - is harder because the handler is not allowed to speak, it is all done by signals, and at the end the dog is left in the stand, the handler signals it to down, sit, recall and finish
A choice of three things, the dog can speak on command where it barks in the sit, stand and drop, or it can do food refusal where it refuses offered food in the sit, stand and drop or it may do directed retrieve where it retrieves the correct glove out of three placed six metres apart
Stand for examination - is done as a group exercise
Stay exercise is a seven minute down with the handlers hiding somewhere
Utility Dog Excellent - UDX
Exercises are Seek Back, Heel, Scent Discrimination, Send Away Recall, Change of Position, Directed Retrieval, Group Stand for Examination
Seek back is as in utility but there is a decoy article scented by someone else which the dog must not retrieve
Heeling - a heel pattern with positions in motion, in which signals or voice may be used, and three times the dog is left in a sit, a stand or a drop whilst the handler walks forward five metres, returns three metres past the dog and returns, collecting the dog on the way
Scent discrimination - is finding a cloth article scented by the judge from amongst unscented ones
Directed send away and recall - in which the dog goes out 25 metres and sits in a square marked by four cones, the handler walks towards the dog and, when instructed, turns and calls the dog to heel, does a right or left turn then a halt, with the dog at heel by this time
Change of position - the dog is left in a stand and changes position six times as the judge instructs, including sits, stands and downs, all on the spot, this is called distance control
Retrieving - the dog retrieves three articles which it cannot see, following the handler's direction signal
Stand for examination - the last exercise is a temperament test which is a group stand for examination
All these obedience titles are shown after the dog's name and in fact becomes part of the registered name. There is one exception – obedience champion - this title is shown before the name as OC or O Ch, depending when the title was achieved. An obedience champion has gained his/her UD title, after which it has achieved a further five passes of 185/200 points or more in the utility class.
It's all about making it fun for the dog!
Rally Obedience
also known as Rally-O
Based on traditional dog obedience but carried out in a more informal and relaxed style and unlike in traditional obedience, handlers are allowed to encourage their dogs during the exercises. This includes verbal praise and patting your dog as often as you wish.
The rally course is laid out using numbered signs which provide specific instructions for the dog and handler 'team' basic obedience exercises.
Titles
There are 5 levels in Rally:
Rally Novice Title (RN), the beginner's class. The dog is on leash and there are 10 to 15 stations. 3 qualifying scores of 75 or more.
Rally Advanced Title (RA), for dogs who have completed their novice title. Dogs are judged off leash. A jump is included in this title and exercises become increasingly difficult and challenging for dog and handler. 3 qualifying scores of 80 or more.
Rally Excellent Title (RE), for dogs who have earned their advanced title. 15 to 20 stations, including 2 jumps, are used in this class. 5 qualifying scores of 80 or more
Additionally, there is the Rally Advanced Excellent (RAE) title, in which the team has to qualify in both Advanced and Excellent in 5 trials with a score of 80 or more.
Rally Master Title (RM) for dogs who have earned their excellent title. 18 - 24 stations. 7 qualifying scores of 85 or more.
Rally Obedience Champion (RO CH) for dogs competing in the Masters ring. 18 - 24 stations. 10 qualifying scores of 90 or more.
The dog and handler team start with 100 points and deductions are made for mistakes such as a tight leash, crooked sits, or performing an exercise incorrectly.
There is no time limit and the team moves at their own pace. At competition level the performance is timed and in the event of a tied score, the fastest team wins. The judge will expect to observe the dog demonstrate a willingness and enjoyment in the ring. Unlimited communication between handler and dog is encouraged to achieve better results.
The Bendigo Obedience Dog Club conduct Rally training during class training on Sunday mornings.
For more information on Obedience and Rally competitions and rules, please refer to the BODC Trials Page - Starting to Trial (Compete).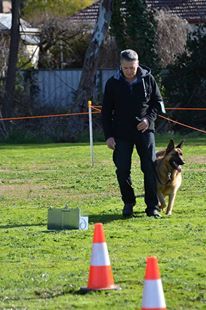 Click here to watch novice rally obedience.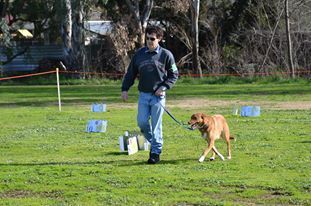 Contact Details
Bendigo Obedience Dog Club Inc
Training Ground:
Finn Street Recreation Reserve, Bendigo Vic 3550
Postal Address:
PO Box 2396, Bendigo Mail Centre, Bendigo 3554
For enquiries please contact: Heather - 0409 429 972
Alternatively you can email your enquiry.